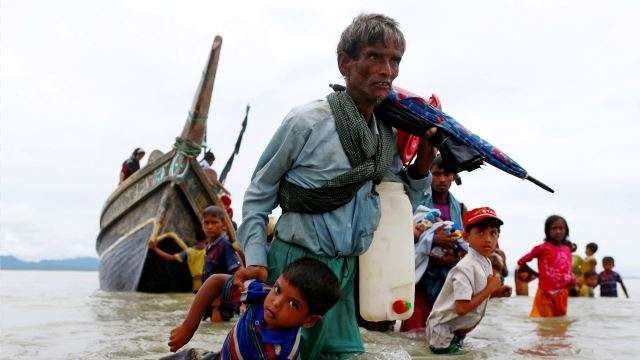 Earlier, the apex court had said that it will hear the petition filed by Rohingya Muslims challenging the government's stand to deport them back to Myanmar on Friday.
In a strongly-worded observation, the Supreme Court reminded the government that it has multiple responsibilities, and must balance national and humanitarian values.
"While national security and economic interests need to be secured, innocent women and children can not be ignored", the apex court said.
Mindful of the centre's concern, the court told the petitioner that they were free to straightaway approach the top SC if any contingency situation arose. "Moreover, India's credibility as a net security provider for our neighbours in the region would be severely compromised if we fail to act on behalf of our broader interests in the region", they said. It is not an ordinary case.
In the matter, the Senior Advocate, Prashant Bhushan, appearing from the petitioner side, said "the court has ordered the government not to deport any Rohingya Muslims till it decides on the matter".
China's Exports Grow Less Than Forecast; Imports Growth Tops Expectations
China's trade growth accelerated in September in a sign of resilient global and domestic consumer demand. Exports rose 8.1%, below forecasts of 8.8% but handily beating August's 5.5%.
The apex court is hearing a plea filed by two Rohingya immigrants, Mohammad Salimullah and Mohammad Shaqir, who are registered as refugees under the United Nations High Commissioner for Refugees (UNHCR).
An estimated 40,000 Rohingya Muslims have settled in various Indian cities, including many who fled persecution in Myanmar in 2012.
A group of 51 personalities from various fields have written an open letter to Prime Minister Narendra Modi opposing the deportation of Rohingyas arguing that the move would be against India's humanitarian principles and traditions as well as its obligations under global law.
The two-page letter, released by Amnesty International India deals exclusively with the Rohingya crisis and the Indian government's response to it. In July, the ministry had directed state governments to set up a task force at the district level to identify and deport illegally staying foreign nationals.
In a new wave of migration, more than 500,000 Rohingya have fled Myanmar to Bangladesh since a renewed military crackdown began August 25.