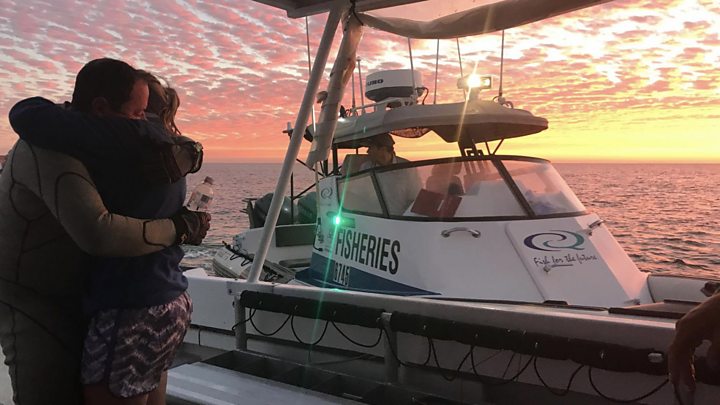 Charlie Fry, 25, was left with superficial puncture wounds on his right shoulder and upper arm after the attack on Monday afternoon off Avoca Beach, 90 kilometres (60 miles) north of Sydney.
"If you are watching or listening, Mick, I owe you a beer. I'll get to tell the story for the rest of my life".
Fry said the shark bit his arm and shoulder after he missed a wave.
"When it happened, I was like, "just do what Mick did, just punch it in the nose", he said.
A man has been injured while surfing at Avoca Beach today after being hit by what he described as a 2m shark, NSW Police say.
"I thought it was a friend goofing around (initially)", he said.
When he turned around, Fry said he "saw a shark's head come out of the water with its teeth".
North Korean soldier defects to the South at Joint Security Area: JCS
At the time of the defection, the soldier was clad in the Korean People's Army uniform with no weapon, he added. He is now under questioning by the South's police, army and spy agency.
Mr Fry arrived in Australia two months ago and works in a hospital on the New South Wales coast, local media reported. "I$3 got back on my board, shouted at my friends who were there and then managed to catch a wave in".
Mr Fry said he thought he was going to die as he frantically made his way back to the shore.
Mr Fry said he had "no idea" what kind of shark it was, but said it was "big and scary".
A British doctor said on Tuesday he punched a shark on the nose to escape its jaws while surfing off the Australian coast. He was taken to hospital by his fellow surfers, who are also doctors.
"I didn't really notice it at the time because when you're surfing, all I'm thinking was: 'I'm about to die".
Soon after the 25-year-old sprinted out of the water, a three-metre great white shark was spotted in nearby waters.
Avoca and North Avoca beaches remained closed on Tuesday as authorities closely monitored the water for any sign of the shark.