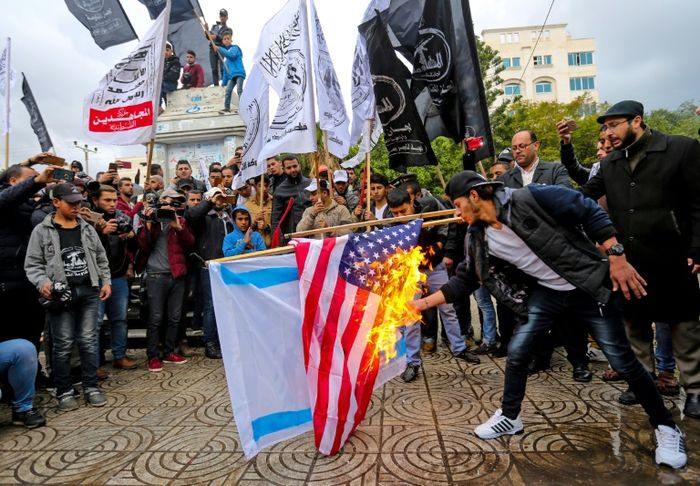 Four Palestinians in Gaza Thursday were injured by Israeli soldiers' live rounds during clashes east of Khan Younes, south of the Gaza Strip, with one injury described as critical.
An Israeli tank returned fire.
The Israeli rocket attacks reportedly landed in the Gaza Strip and on an empty field in southern Israel, injuring no one.
Clashes were also reported throughout Judea and Samaria as Palestinians rioted following United States President Donald Trump's declaration Wednesday night that the U.S. recognizes Jerusalem as Israel's capital.
The Spokesperson's Unit also confirmed a third rocket that was sacked toward Israel and reached Israeli territory.
The first two launches set off the alarm shortly after 6 p.m., in the Hof Ashkelon and Sha'ar Hanegev regions, northeast of the Gaza Strip.
Firefighters Battling 'Hurricane-Force' Winds in Creek Fire
The Creek Fire grew to over 4,000 acres by Tuesday afternoon as hundreds of firefighters were deployed to push back the flames. Although numerous homes were charred on Tuesday, firefighters were still dousing hot spots that flared up on Thursday morning.
Two rockets were fired from the Gaza Strip Thursday afternoon, according to another IDF statement.
The ministry said that the reopening of the crossing will be dependent upon situational assessments. In the blast and its aftermath, 12 members of the terrorist group were killed, along with two Hamas operatives.
In Wednesday night's raid, Israeli security forces also apprehended several Palestinians suspected of inciting terrorism and brought them in for questioning with the Israel Police.
Earlier in the day, Israel troops were heavily deployed on the outskirts of Gaza city in anticipation of any possible protests by Palestinians. The IDF confirmed the use of a tank and an IAF to strike Hamas targets in the Gaza Strip.
The Palestinians seek the eastern sector of the city as the capital of their future state.