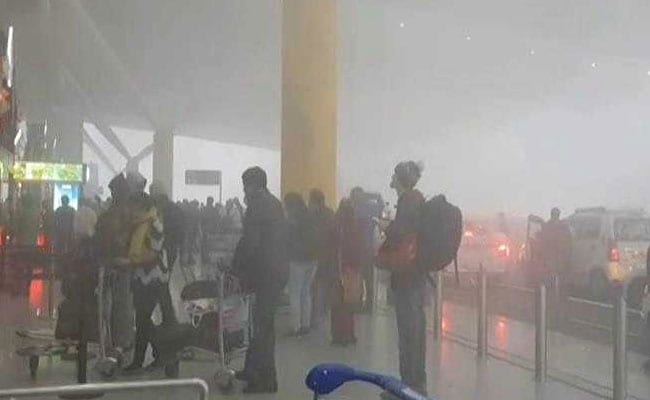 For the second consecutive day, operations at the Delhi airport have been suspended this morning after the visibility level on the runways dropped below 50 metres. Visibility level fell below the minimum required affecting over 100 flights on Sunday.
Over 150 flights were delayed, almost 50 diverted and an estimated 20 were cancelled. All flights to and from the national capital are on standby and no operations are active as of now due to low visibility, news agency ANI reported. There were, however, almost 50 diversions to nearby airports as many pilots deployed by airlines were not trained in CAT IIIB instrument landing system, said a person familiar with the matter, on the condition of anonymity. "This is so far the worst fog we have experienced this year", said RK Jenamani, Director, IMD, Delhi area and IGI airport. Additionally, around 20 flights were cancelled due to low visibility on the runway.

The Delhi airport terminals are packed with passengers who arrived early at the airport for their morning flights
Skies are expected to clear up during the day and shallow to dense fog is likely to engulf the city tomorrow morning, he added. As many as 47 were delayed on account of "other reasons". One Air India flight from Paris was diverted to Mumbai while an Oman Air flight from Muscat was diverted to Jaipur, as per the officials. Dense fog delayed five domestic and seven global flights.
Many took to Twitter to share pictures of overcrowded domestic terminal where passengers were seen sitting on floors and staircases.
Soldier killed as Pakistan violates ceasefire in Nowshera
The attack was carried out 48 hours after four Army soldiers, including a Major, were killed by the Pakistan Army on December 23. India shares a 3,323-km-long border with Pakistan of which 221 km of the IB and 740 km of the LoC fall in Jammu and Kashmir.