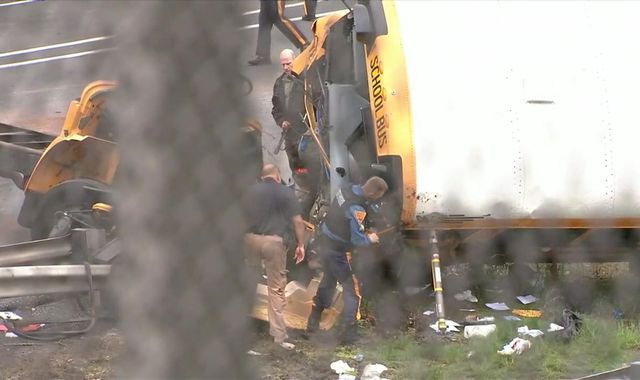 The front end of the bus appeared to be crushed or ripped off, and it was sheared off its undercarriage. A dump truck and the school bus crashed in the town of Mount Olive, according to Mayor Robert Greenbaum.
A truck collided with a school bus on a New Jersey highway Thursday morning, leaving multiple people injured, reports said. It happened around 9:30 a.m. with a bus carrying middle school students from the Paramus school district. Family members tell Eyewitness News the bus was headed to Waterloo Village as part of a field trip for fifth graders. He said the body of the bus was nearly completely torn off the vehicle's frame.
A red dump truck with a mangled front end was parked along the highway nearby, about 50 miles west of NY.
Mount Olive police are advising parents of students from Paramus to contact Paramus police at 201-262-3400.
Sensex ends lower as uncertainty over Karnataka govt formation hurts sentiment
The NSE 50-share Nifty also lost 58 points, or 0.54 per cent, to 10,682, after shuttling between 10,777 and 10,664. Coal India , PowerGrid and were the major gainers while Tata Steel, Adani Ports and Yes Bank were losing the most.
A spokesperson said patients are being taken to Morristown and Hackettstown Medical Center, but it is not known how many.
Police have said they are investigating a "serious" accident. The accident occurred on Route 80 in Morris County.
The National Transportation Safety Board is gathering information on the crash, a spokesman said.
No additional details on the children or the nature of the injuries were available.