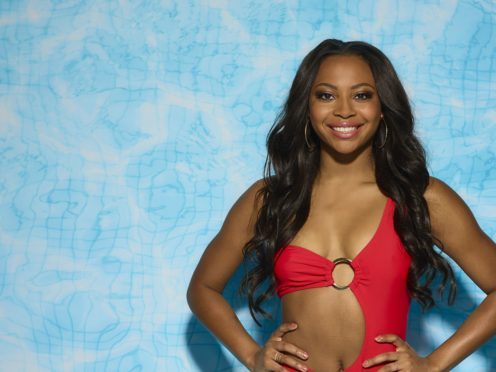 Speaking after leaving the villa, she said: 'I'm obviously devastated to be leaving my best friends but this is the flawless time.
As Samira explained her decision to her fellow co-stars, there was plenty of tears, although some fans weren't buying one of the Islanders' emotion.
I've not had any connection in here with anyone and I had a little taste of that with Frankie and it's gone abruptly and I think I'd always be thinking 'What if.' I woke up this morning and I thought, it's my time to go...
"I've kissed a lot of frogs and I feel like now with Wes, I want him to know how serious I am about him", says the model.
Though unfortunately for them, it appears that it really was a movie ending - including the cameras there to capture it all on tape as she jumped into his arms.
Frankie promised to wait for Samira after leaving Love Island - and in a scene straight out of Love Actually, he was there waiting for her at Gatwick airport. I'm devastated by it.
Donald Trump told me to sue EU - Theresa May
Mr Davis, writing in the Sunday Times, said it was an "astonishingly dishonest claim" to say there is no worked-out alternative to Mrs May's plan.
"And Kaz was like, 'I just think it's really obvious that you like him more than he likes you'".
Revealing he had known her for years but hoped to get to know the fashion influencer on a romantic level, the TV star added: "I need to take her out on a proper date, so we'll see how that goes".
But Laura replies: "I just think she's on her high horse. This opportunity was wonderful and I take it with a full heart and full love". 'You can tell they're into each other because they seemed really happy. And I'm not saying I'm in love with Frankie or we're going to get married tomorrow but I don't want to waste any time. I've really tried and been tossing and turning about what I'm going to do.
Laura says: "Would you not be defensive over your relationship if I was doubting you guys?" "You are all so unbelievable".
Occasionally on Love Island the show will venture away from all the cracking on and grafting and one-on-one chats on the swingy sofa bit of the villa to send the contestants a completely pointless, briefly amusing "challenge".