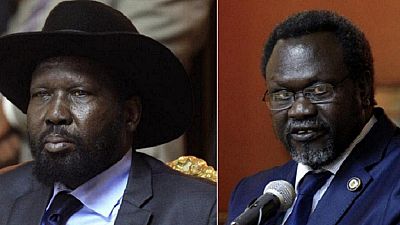 President Uhuru Kenyatta Wednesday met Al-Dirdiri Mohamed Ahmed, Foreign Affairs Minister of the Republic of Sudan, who briefed the Head of State on the progress being made towards the restoration of peace and stability in South Sudan especially as regards the recent Khartoum Peace Agreement.
South Sudan's President Salva Kiir and Riek Machar, opposition leader and Kiir's former vice president, will attend the signing ceremony alongside many regional leaders and representatives of the global community.
South Sudan's almost five-year conflict began after Kiir accused his then-vice president Machar of plotting a coup against him in 2013.
Still, Ahmed said the parties disagree on the power-sharing at the level of local governments, but they are determined to solve the issue before the final signing of the document on August 5.
Salva Kiir says the new deal will survive because it won't be forced upon them like previous accords.
Kiir's side will take 20 slots in the new 35-member government, while Machar's SPLM-IO and other smaller opposition groups will take the rest.
President Donald Trump arrives in OH for rally
Jordan, who has denied the charge, has announced his plan to run for speaker of the House. Every student receives free tuition, as well as free food, uniforms and free bicycles.
Further said he agreed with al-Bashir to keep the talks in Khartoum in order finalize the remaining issues which are mainly the implementation matrix of the peace agreement and the timetable for the return of the opposition leaders as well as the troops' redeployment.
"Last month the White House warned that "a narrow agreement between elites" would not solve the problems plaguing South Sudan".
A similar arrangement, however, fell apart in July 2016 when fighting erupted in the capital, Juba, and Machar fled the country.
"I need to get for them their transport, and one person needs a motorcade of maybe five vehicles". "There are so many things need to be done".
President Kenyatta commended the Republic of Sudan for the progress made and reaffirmed Kenya's commitment to the restoration of peace, security and stability in South Sudan. The conflict between the two rivals is aggravated by tribal divisions: President Kiir belongs to the dominant Dinka tribe, and Machar is an ethnic Nuer.
The South Sudanese President also said that he was "going to sign", the agreement.