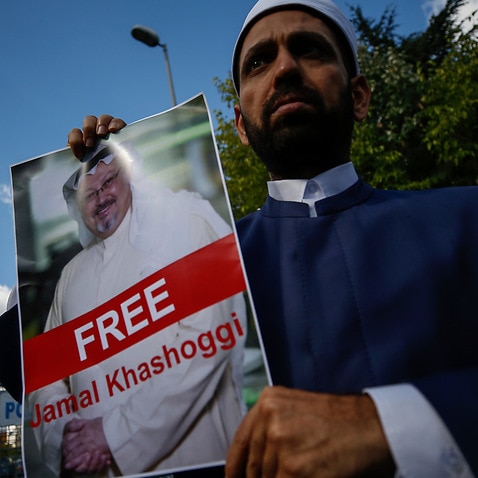 The body of Victoria Marinova, 30, who hosted a show on local TVN, was found dead on a popular jogging route near the Danube River in the city of Ruse on Saturday.
Mladen Marinov, Bulgaria's interior minister, described the murder as "exceptionally brutal", according to local news outlets.
Marinova is the third journalist to have died in the European Union over the past year, and the fourth since the start of 2017.
Frans Timmermans, commission vice-president, said he was "shocked by the horrendous murder of Victoria [sic] Marinova".
Police in Germany have arrested a man in connection with the rape and brutal murder of Bulgarian journalist Viktoria Marinova, Bulgarian officials said on Wednesday.
She had also been raped.
The Committee to Protect Journalists said it was "shocked by the barbaric murder", calling on Bulgaria to "employ all efforts and resources to carry out an exhaustive inquiry".
A television journalist was brutally murdered in Bulgaria's northern town of Ruse, prosecutors said Sunday.
UN Ambassador Nikki Haley resigning
FILE PHOTO: US Ambassador to the UN Nikki Haley arrives at UN headquarters in New York, US, September 18, 2017. She also complimented members of Trump's team, including senior advisers Jared Kushner and Ivanka Trump .
Flowers and candles are placed in memory of Bulgarian TV journalist Viktoria Marinova in Ruse, Bulgaria, October 9, 2018.
Bulgarian Prime Minister Boyko Borisov said evidence including DNA had been discovered at the crime scene and that "it is just a matter of time before the perpetrator is found". Last month she began anchoring a program called "Detector", which focused on political investigations.
Marinova's murder was condemned by press freedom organizations, including Harlem Désir of the Organization for Security and Co-operation in Europe. The programme had recently been relaunched. The two men were briefly detained on September 13 south of Sofia as they investigated a tip that documents connected to suspected fraud involving European Union funds were being destroyed. In one of her last reports, she had interviewed two investigative reporters-Atila Biro from website Rise Project, and Dimitar Stoyanov from Bivol. "Why do we keep leaving investigations to the very governments who the reporters are investigating when they are killed?" he added in a tweet.
Teodor Zahov, the organisation's president, said in a statement that, "The pressure on independent media has been systematic for the past 10 years".
EURACTIV has reported about this corruption case in November 2015. She'd been beaten with such force that she was unrecognizable, according to the Federation of European Journalists.
Both Kuciak and Galizia were known to report on corruption.
Last October, Daphne Caruana Galizia, Malta's best-known investigative journalist, was killed when her auto was blown up by unknown persons. And in February, Jan Kuciak, a Slovakian journalist who also reported on government corruption, was shot and killed along with his fiancee, Martina Kusnirova.
Through a United Nations spokesperson, Secretary-General António Guterres called on "all governments to strengthen press freedom and ensure there is accountability for crimes committed against journalists".