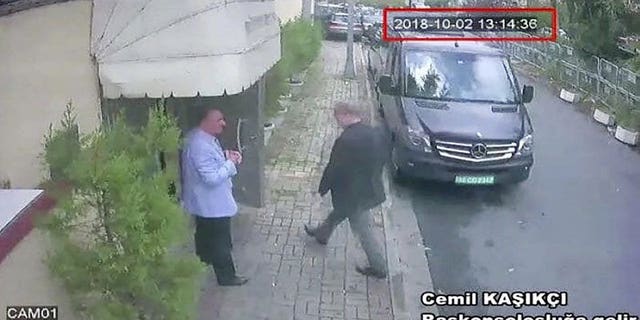 A pro-government Turkish newspaper on Wednesday published the names and photographs of a group of Saudi nationals who allegedly arrived in Istanbul on board two private jets the day journalist Jamal Khashoggi, a contributor to the Washington Post, went missing.
The State Department didn't respond to Fox News request for a comment.
Turkish police forces have also expanded their investigation and are now reviewing footage from cameras in front of the Emirati and Egyptian consulates in Istanbul to see if there was any interaction with Saudi officials of interest, the sources said. Saudi officials haven't acknowledged that.
Turkey's public broadcaster TRT World has obtained video footage which shows the Saudi government critic Jamal Khashoggi entering the Saudi consulate on October 2nd.
Sabah newspaper published the names and years of birth of 15 Saudis it said arrived at Istanbul's Ataturk airport on October 2.
Saudi Arabia has denied the allegations.
The footage aired Wednesday begins by showing the 3:28 a.m. arrival on October 2 of one of two private Gulfstream jets that Turkish media say were carrying the 15 Saudis, who allegedly flew into and out of Istanbul on the day Khashoggi went missing.
Officials also say they had become aware that Khashoggi may have been kidnapped before the second plane had departed, and monitored seven Saudis in a waiting room as they checked their luggage for a second time. It was not clear whether the Saudis meant to arrest and interrogate Khashoggi or to kill him, or if the United States warned Khashoggi that he was a target, this person said. One is said to be a senior government forensic scientist.
Bulgarian man charged with murder of TV journalist Viktoria Marinova
Marinova is the third journalist to have died in the European Union over the past year, and the fourth since the start of 2017. Mladen Marinov, Bulgaria's interior minister, described the murder as "exceptionally brutal", according to local news outlets.
"He did not mind walking into the Saudi Consulate in Istanbul because he did not believe that something bad could happen on Turkish soil".
Jamal Khashoggi was once considered an insider to the Saudi establishment with links to the security and intelligence apparatus.
Khashoggi had written a series of columns for the Washington Post that were critical of Saudi Arabia's assertive Prince Mohammed, who has led a widely publicised drive to reform the conservative Sunni monarchy but has also presided over the arrests of activists and businessmen.
Overall, he decried a "global epidemic" of the stigmatization of journalists, "whether it's the United States and Donald Trump calling them "the enemy of the people" or it's [President] Rodrigo Duterte in the Philippines doing much the same thing - where any number of other places journalists are under threat".
Saudi Arabia has been accused of being behind the disappearance.
"It is like Pulp Fiction", one official told the Times.
Saudi Arabia to allow Turkey to search consulate for Jamal Khashoggi; State Department correspondent Rich Edson reports.
The kingdom is already under pressure amid growing global concern for the writer. Hatice Cengiz did so, hours after Khashoggi didn't come out and after consular staff informed her that he had left. In 2017, the relationship hit what was then considered rock-bottom after Saudi Arabia imposed an economic blockade on neighbouring Qatar, over the latter's alleged support of terrorism in the Middle East. According to the New York Times, officials in Istanbul believe he was killed on orders from the royal court of Saudi Arabia.