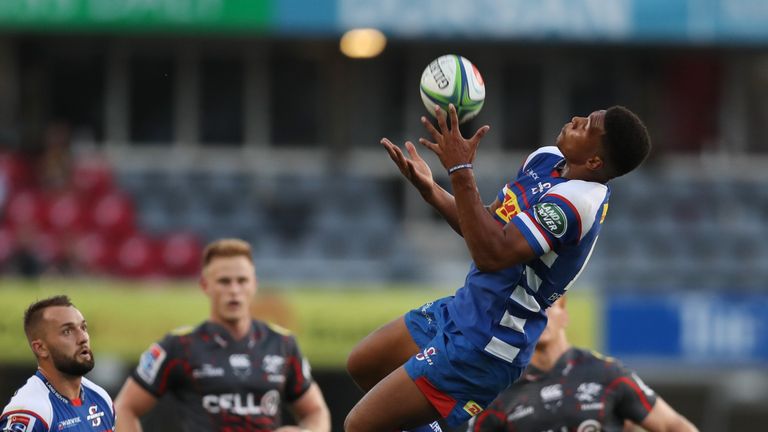 "You can get cited for something you did at a party when you were 15, anything could happen", he said.
"England have beaten New Zealand despite overwhelming odds before, and they can again - but to do so against a champion All Black side in mint condition, they will have to be every bit as sharp and skilful, and play with manic determination".
Cape Town - Springbok coach Rassie Erasmus has called for consistency in decisions when it comes to risky play following Owen Farrell's controversial tackle in the Springboks 12-11 loss to England on Saturday.
Heaping pressure on the New Zealand lineout and playmakers such as Beauden Barrett certainly played a part in the Lions' 1-1 series draw in the summer of 2017 and Jones believes his team can go one better.
Man City on top, Chelsea move second
The forward scored on what was also his 217th league appearance for City, who he joined from Atletico Madrid in 2011. City needed only five minutes to take the lead against Southampton, Wesley Hoedt putting through his own net.
After reviewing footage of the incident, referee Angus Gardner deemed the tackle fair, denying South Africa a kickable penalty to win the game. "We know also that George and Owen could play together well at 10 and 12 so we've got two really good options in that area". We don't play like the Springboks so it's hard to replicate things the Springboks did. When they win the whole country's buoyant, when they lose GDP falls and unemployment goes up. "Sometimes you can take what you want from it", Farrell said. If I stay long enough, you're going to get me sacked, so you'll be happy.
This was England's first match since Jones had brought former All Blacks coach John Mitchell into his backroom staff as defence supremo. "We didn't give", Jones said. "When you beat New Zealand, you climb Everest".
England's new-look side delivered a performance full of character to withstand an early South African onslaught and come back to win 12-11 with four Owen Farrell penalties in their opening November test at Twickenham on Saturday.
The Autumn Internationals citing commissioner had until 5pm local Sunday to cite Farrell and World Rugby confirmed on Sunday evening that no citations had been issued from the weekend's Tests.