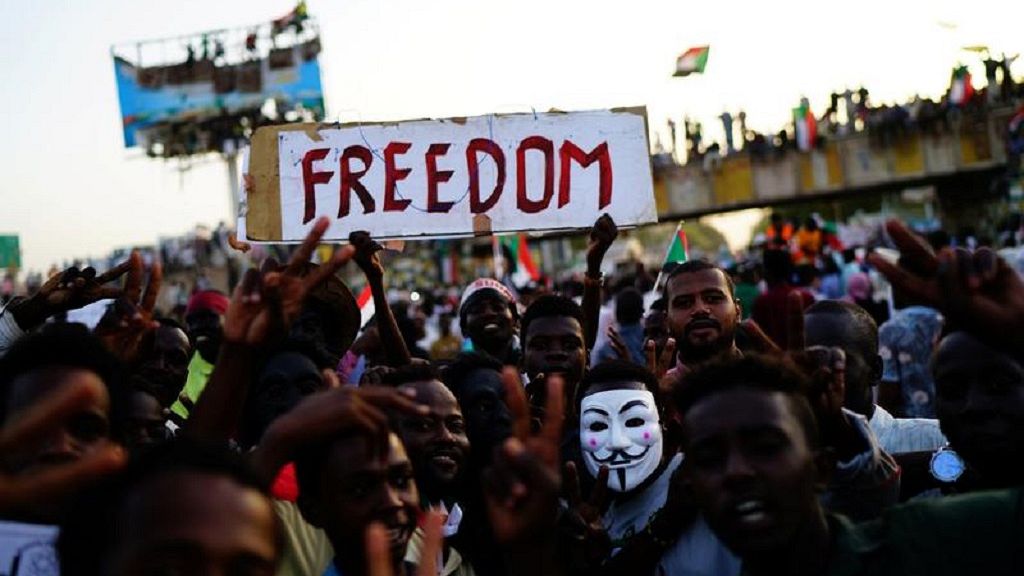 At least five persons including a soldier were killed in violence that erupted in Sudan's capital Khartoum on Monday after Transitional Military Council (TMC) and opposition reached a deal to run the country.
Protesters said counter-revolutionaries linked to the former regime of long-time President Omar al-Bashir incited Monday's violence.
Protest organizers say security forces killed around 100 demonstrators during the four months of rallies leading to al-Bashir's overthrow.
Military leaders have insisted that they should have the ultimate power and that the transitional period should be no more than two years.
A doctor committee also confirmed that four demonstrators were killed, but were unable to clarify whether they were killed during sit-in firing.
Following Bashir's removal, protesters have vowed to continue their sit-in until the military council who replaced the president also steps aside in favour of a civilian government. There has been no comment from Bashir, who is in prison in Khartoum.
The killings took place after nightfall on Monday, when protests in Sudan usually swell during the Muslim holy month of Ramadan, which is marked by dawn-to-dusk fasting.
He was ousted following protests in Capital Khartoum, that saw many lives lost.
Actress Felicity Huffman pleads guilty in college admissions scandal, cries before judge
According to TMZ, Loughlin's husband Mossimo Giannulli was arrested and she plans to turn herself in when she returns to L.A. The Emmy-award winning actress was accused of paying $15,000 to have a proctor correct the answers on daughter's SAT exam.
The transitional military council, which is now in charge of the country, however denied attacking the protesters in front of the army headquarters of the capital, Khartoum on Monday night.
The crucial talks between Sudan's army rulers and protest leaders over handing power to a civilian administration follow a deadlock in negotiations.
Gunfire rocked the protest site overnight in Khartoum, with the Central Committee of Sudanese Doctors reporting the death toll and use of live ammunition.
Prior to Monday's talks, dozens of protesters blocked Nile Street, a major avenue in the city, for the second consecutive day, an AFP correspondent reported.
On Sunday, protesters blocked Nile Street after police stopped them from going from that road to the sit-in outside the army complex that has been staged since April 6.
Later, RSF men used gunfire to disperse protesters next to Blue Nile bridge and thick clouds of tear gas were fired near Jumhuriya Street south of the river, where the RSF were seen beating a rickshaw driver as they patrolled in vehicles armed with sticks and guns, witnesses said.
The army generals and protesters are at loggerheads over who will sit on a new ruling body that would replace the existing military council.
Late last month, the alliance - which brings together protest organisers, opposition parties and rebel groups - handed the generals its proposals for a civilian-led transitional government.