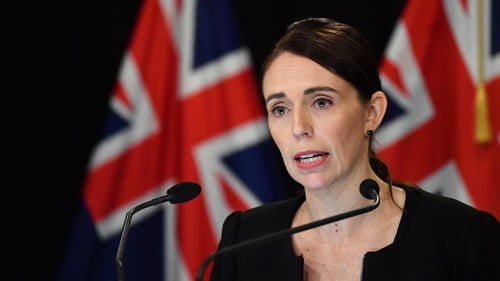 From left, New Zealand's Prime Minister Jacinda Ardern, French President Emmanuel Macron, King Abdullah II of Jordan, Indonesia's vice-President Jusuf Kalla and Canada's Prime Minister Justin Trudeau attend a launching ceremony for the "Christchurch call", an initiative pushed by Ardern after a self-described white supremacist gunned down 51 people in a massacre at two mosques in the New Zealand city in March, at the Elysee Palace in Paris, on May 15, 2019. Facebook, Google and Twitter struggled to swiftly take down copies of the violent video as fast as it spread on the web, prompting an worldwide backlash from regulators who felt malicious actors had evaded Silicon Valley's censors too easily.
Ardern said multiple edited and versions of the March 15 massacre quickly spread online, and the take down was slow. It's a global push for major tech companies and governments worldwide to prevent the spread of internet hate content, which leads to radicalization and, in the case of the Christchurch mosque shootings, mass violence.
It will also put US$7.5 million towards research partnerships to improve its image and video analysis technology that failed to block every upload of the gunman's video footage to its platform.
New Zealand Prime Minister Jacinda Ardern is leading an effort to secure global commitments to prevent the sharing of extremist content online.
Firms themselves will be urged to come up with concrete measures, the source said, for example by reserving live broadcasting to social media accounts whose owners have been identified.
Facebook said in its post Tuesday that detecting these videos is an area that needs more research.
Florenzi scores to shut CR7's jibe as Roma beats Juventus 2-0
Torino captain Andrea Belotti scored a brace, including the victor with a spectacular overhead kick in a come-from-behind 3-2 win over 10-man Sassuolo.
The firms said they would update their terms of use to "expressly prohibit the distribution of terrorist and violent extremist content".
Last year, France struck a six-month deal with Facebook that allows regulators unprecedented access to study the tech giant's approach to fighting posts and photos that attack people on the basis of race, religion, sexuality or gender.
The flurry of activity stands in stark contrast to the United States.
While Facebook chief operating officer Sheryl Sandberg said livestreaming safeguards would be explored, chief executive Mark Zuckerberg has already said that putting a delay on livestreams would fundamentally break the service. Facebook served as an organizing tool for the deadly neo-Nazi rally in Charlottesville in 2017, for example, and lesser-known fringe websites hosted hateful screeds penned by the man accused of opening fire on a Pittsburgh synagogue past year.
The companies said they would also commit to publishing "transparency reports" on the detection and removal of terror or violent extremist content. But "ultimately the regulation of these tools that transmit information should be a matter for governments, not just the whims of private companies".