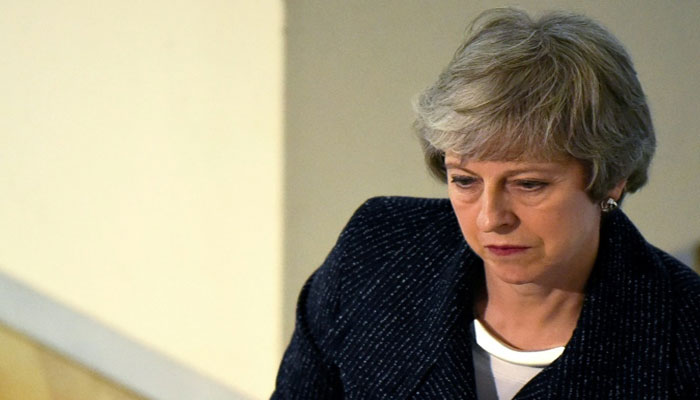 The Prime Minister announced on Tuesday that the Withdrawal Agreement Bill would include "a requirement to vote on whether to hold a second referendum" and a choice over the UK's future customs arrangements, after discussions with her cabinet.
A senior member of Prime Minister Theresa May's Cabinet has quit over Brexit, in a new blow to the embattled British leader.
Her fate looks set to be sealed on Friday when she meets Sir Graham Brady, chairman of the powerful 1922 Committee of Conservative MPs.
Environment Secretary Michael Gove, former House of Commons leader Andrea Leadsom and Foreign Secretary Jeremy Hunt each have a 7% probability, according to betting markets.
Downing Street said May still intends to present her bill to the House of Commons early June, but it is widely expected to be defeated again like on the three previous occasions when the bill has been presented.
"Maybe she will still quit tomorrow".
Her announcement means she will still be in power for Donald Trump's state visit on 3-5 June.
May, once a reluctant supporter of European Union membership who won the top job in the turmoil that followed the 2016 Brexit referendum, steps down with her central pledge - to lead the United Kingdom out of the bloc and heal its divisions - unfulfilled.
Chicago judge orders 'Empire' actor Jussie Smollett's case file be unsealed
The decision to drop the charges angered Chicago Police Chief Eddie Johnson, who said he was blindsided by the decision. He added, "these are not the actions of a person seeking simply to maintain his privacy or simply to be let alone".
"She must announce her resignation after Thursday's European (Parliament) elections", he wrote in the Financial Times.
British Prime Minister Theresa May is facing calls to rip up her tattered Brexit blueprint and call an end to her embattled premiership after her attempt at compromise got the thumbs-down from both her own Conservative Party and opposition lawmakers.
The Cabinet turmoil intensified after Mrs Leadsom said she resigned with a "heavy heart", adding she no longer believed the Government's approach would deliver on the referendum result to leave the European Union.
In response to a question following a speech at the National Cyber Security Centre, he said: "Theresa May will be Prime Minister to welcome him and rightly so".
Nearly three years since Britain voted to leave the European Union, it is not clear when, how or even if Brexit will happen.
Ms Leadsom described a second referendum as "dangerously divisive".
But a new PM was "in the best interests of the country".